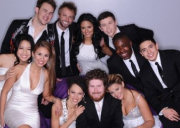 The American Idols Live tour has become a summer sensation and a mega-event that's unlike anything else that's out there right now. Each year it features the top contestants from the most recent season of the show. They all go out and tour together to massive crowds in arenas and stadiums, and all of their millions of fans who have watched them and voted for them on TV can then appreciate them live.

The 2011 American Idols Live tour begins in July and extends through September, and it will feature almost 50 shows in total. Almost all of them are in the United States, although there's a stop in Toronto as well.

The 2011 tour will feature the top 11 contestants from the 10th season of the show. The names already include popular stars in the making like Pia Toscano and Jacob Lusk, and they generally perform several songs each culminating with the winner getting to perform last.

Since the final order of the contestants are not yet known, the "headliner" and top billed stars on the tour haven't been decide yet. That makes it really fun and unique, but all of the top stars are great, and getting to see them all on one night is what makes this tour so special and unique.

You know that tickets to the American Idols Live 2011 tour will sell out super quick in your city, so don't delay to grab them up for your family and friends while you can.
Ballparks.com through its affiliation with TicketTriangle.com, an online ticket agency offering concert tickets, has been selling tickets to all events in thousands of venues world wide since 2005. To find out more information about a concert, theater, or sporting event please visit one of the links above for more information.
With this partnership we are able to offer you tickets to tens of thousands of events with several million tickets in inventory. We are not affiliated with any venue or arena, and all the tickets listed through Ticket Triangle are tickets listed in a national database by hundreds brokers all over the country. These tickets are being sold on what is called the secondary market. This means the tickets have already been purchased and have been sold to these brokers for subsequent resale at a marked up price at market value. All tickets sold through Ticket Triangle are 100% guaranteed to be authentic.
To order concert tickets online please click a link above. We sell tickets to all types of concerts and other events.
We offer premium tickets to your favorite concert as well as other events throughout the world. We can put you into the seat of your choice.
We have available some of the the hardest to find concert tickets along with seats for other world tour concerts or events. Whether you are looking front row tickets, box seats, backstage passes, a suite, or club seats, we have the largest selection anywhere. Our inventory of our American Idol Live tickets are fairly cheap, a good bargain, and usually some of the lowest prices available. Much of the inventory we offer are for sold out events and often for a significant disount cmpared to many competitors.

News about American Idol Live
Williams Street Fest offers hours of free music; ?American Idol Live? sells ou - (Sep 12, 2018 7:29PM)
Kris Allen talks American Idol Live Tour, new single, technol - (Aug 29, 2018 7:35AM)
American Idol live sweeps into Alberta Bair Theater Aug. - (Aug 21, 2018 10:32AM)
American Idol: Live! 2 - (Aug 17, 2018 4:05PM)
Best Bets: UB40, Bruno Mars, American Idol Live and more for your Las Vegas week - (Jul 26, 2018 9:15PM)
American Idol Live! 2018 coming to Washington Pavil - (May 7, 2018 6:31AM)
"American Idol Live!" tour coming to downtown Milwaukee this sum - (May 6, 2018 6:26PM)


American Idol Live Washington