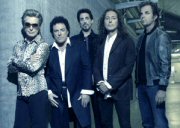 Journey Tickets Las Vegas

| | | |
| --- | --- | --- |
| Las Vegas, NV | Wednesday, October 9, 2019 8:00PM | Buy Now |
| Las Vegas, NV | Friday, October 11, 2019 8:00PM | Buy Now |
| Las Vegas, NV | Saturday, October 12, 2019 8:00PM | Buy Now |
| Las Vegas, NV | Wednesday, October 16, 2019 8:00PM | Buy Now |
| Las Vegas, NV | Friday, October 18, 2019 8:00PM | Buy Now |
| Las Vegas, NV | Saturday, October 19, 2019 8:00PM | Buy Now |
| Las Vegas, NV | Wednesday, October 23, 2019 8:00PM | Buy Now |
| Las Vegas, NV | Friday, October 25, 2019 8:00PM | Buy Now |
| Las Vegas, NV | Saturday, October 26, 2019 8:00PM | Buy Now |

Click here to find or order
Journey Concert Tickets

Journey has continued on their own long, winding journey over the past nearly 40 years, with new musical directions, new band members, and ever-growing popularity. Their most famous song, "Don't Stop Believin'" is the best-selling song in the history of iTunes, and has been everywhere, including the series finale of The Sopranos.

Worldwide they have sold over 80 million albums, and they have sold 47 million the USA alone. But those are all side notes to what the band continues to do best, put out great, new music, and hitting the road for lengthy, all-fun summer tours.

The 2011 Eclipse Tour from Journey is a lengthy one that will take the band all across the world and will continue through the fall. They'll play in almost a dozen different European countries before heading to the USA and putting on some massive shows all across the country, and they'll be teaming up with Foreigner in the process, even better!

Journey tickets are always very popular, hot items, as they have fans spanning multiple generations and age groups. You might like certain songs, and your parents and their friends might like others, or vice-versa, with your kids just now getting into the Journey that you've loved for decades.

The tour is, of course, named after the most recent album, also called Eclipse. It's the band's staggering 14th studio album, since the self-named Journey debuted in 1975. Just released in May 2011, it may not reach the lofty 9x Platinum heights of Escape from 1981, but it will surely be quite popular, particularly amongst the bands hardcore, long-time fans.

Ballparks.com in its partnership with TicketTriangle.com, an online ticket agency offering Journey tickets and other concert tickets, has been selling tickets to all events in thousands of venues world wide since 2005. To find out more information about a concert, theater, or sporting event please visit one of the links above for more information.
With this partnership we are able to offer you tickets to tens of thousands of events with several million tickets in inventory. We are not affiliated with any venue or arena, and all the tickets listed through Ticket Triangle are tickets listed in a national database by hundreds brokers all over the country. These tickets are being sold on what is called the secondary market. This means the tickets have already been purchased and have been sold to these brokers for subsequent resale at a marked up price at market value. All tickets sold through Ticket Triangle are 100% guaranteed to be authentic.
To order Journey concert tickets online please click a link above. We sell tickets to all types of concerts and other events.
We offer premium tickets to your favorite concert as well as other events throughout the world. We can put you into the seat of your choice. If you wish buy Journey tickets or are looking for the cheapest tickets available, please browse our selection. We are also a good source when you are unable to get access to Journey presale tickets.
We have available some of the the hardest to find concert tickets along with seats for other world tour concerts or events. Whether you are looking for front row tickets, box seats, backstage passes, a suite, or club seats, we have the largest selection anywhere. Our inventory of our Journey tickets are fairly cheap, a good bargain, and usually some of the lowest prices available. Much of the inventory we offer are for sold out events and often for a significant discount compared to many competitors.
Journey is performing at The Colosseum at Caesars Palace in Las Vegas, NV.
Shipping Policy
Most Journey tickets sold and advertised on our site are done so using Federal Express. If your order is placed from outside the USA you will be required to use an international delivery service. Most tickets sold are shipped within 24 hours of when the order was placed. If a few cases if the tickets have not yet been distributed by the venues to the actual seller, they will not be shipped to you until a later date which will be communicated to you with an estimated date.
About Ticket Triangle
Ticket Triangle is not affiliated with Journey, any venue or any box office. All tickets listed on Ticket Triangle are done so by reputable secondary market brokers from across the nation. The brokers find tickets to sold-out and popular events from numerous sources, including those who purchased tickets but cannot attend the events. We have access to this inventory and are able to give you the widest choice of tickets online for every event and performance in the country. The brokers who sell these tickets are strictly observed to make sure they are complying to a high standard of performance and customer service.

Las Vegas 51s Tickets