Citi Field
Flushing, New York
Tenant: New York Mets (NL)
Opened: April 3, 2009 (exhibition against the Boston Red Sox)
First regular season game: April 13, 2009 (6-5 loss to the San Diego Padres)
Groundbreaking: November 13, 2006
Capacity: 45,000
Style: Open air
Surface: Grass
Architect: HOK Sport (Kansas City)
Construction: Hunt-Bovis (joint venture of Hunt Construction Group and Bovis Lend Lease)
Owner: New York Mets
Cost: $600 million ($444.4 million for the stadium, and the remainder for infrastructure)
Public financing: $89.7 million in capital funds from the city and $74.7 million in rent credits from the state
Private financing: Approximatley $440 million from the team, although the Mets have said they expect to spend close to $550 million
New York Mets tickets:
Location: Adjacent to Shea Stadium In Queens, near Flushing Meadow Park, site of the 1939 and 1964 World's Fairs, just southeast of La Guardia Airport.
Dimensions: Left field: 335 feet; left-center: 379 feet; center field: 408 feet; right-center: 391 feet; right field: 330 feet.
Fences: Unknown
Materials: Brick, limestone, granite and cast stone with exposed steel.
On April 6, 2006, the Mets presented plans for their new, open-air ballpark to be built in the parking lot next to Shea Stadium. Several features, including a rotunda at the entrance, evoke memories of Ebbets Field. This was the intention of Mets owner Fred Wilpon, who was raised in Brooklyn when the Dodgers played there. The park features irregular outfield fences, elaborate steel bridgework and a cantilevered deck in right field.
The total project costs are estimated at $600 million. The approximately $444.4 million ballpark will be financed by tax-exempt and taxable bonds to be issued by the city's Industrial Development Agency. The city will contribute approximately $85 million in fiscal 2006 capital budget funds for necessary infrastructure improvements and an additional $4.7 million in capital reserve for the new stadium. The state's Empire State Development Corporation will contribute $70 million for the construction of the infrastructure improvements and $4.7 million in capital reserve for the stadium from bond proceeds. The total infrastructure improvement costs are estimated at $177.2 million. The Mets will be responsible for the construction of the ballpark and related infrastructure improvements.
A report by the Independent Budget Office, which was released on April 20, 2006, claimed that the ballpark would cost the city of New York approximately $177 million over forty years, and the state about $89 million during the same time. It also stated that the Mets would save close to $298 million from the use of tax-exempt bonds.
The Mets will enter into a non-relocation agreement which would require the Mets to play its 81 home games at the new stadium and prohibit the team from relocating to another city for up to 35 years. The Mets will be responsible for the maintenance and infrastructure of the stadium, including parking spaces, parking lot construction, installation of utilities and demoliton of the old stadium. Under the current arrangement, the city owns Shea Stadium and is responsible for its upkeep.
On November 13, 2006, the Mets broke ground on their new ballpark and announced it would be called Citi Field. A naming rights deal with Citigroup will pay the Mets in excess of $20 million annually for 20 years.
*
Just before leaving office in December 2001, former Mayor Rudy Giuliani reached a tentative agreement with both the Yankees and Mets to build them each an $800 million, retractable-roof stadium. Upon becoming mayor, Michael Bloomberg made it clear that he had other priorities and the ballpark plans were put on hold.
In January 2005, it was reported that New York City planned on spending $1.1 billion on three sports complexes: $600 million for a Jets stadium on Manhattan's West Side, $300 million toward a new Yankees ballpark and $200 million toward a Nets arena in Brooklyn. The Mets said they expected to receive the same $300 million subsidy as the Yankees. However, after the collapse of plans for the heavily subsidized Jets stadium, new agreements were forged which required teams to bear a larger proportion of expenses.
Other points of interest:
58 luxury boxes, four party suites and more than 7,800 club seats.
360° view of playing field from Concourse level.
Wider seats and more legroom between rows.
Wider concourses for easier access.
More restroom facilities and concession areas to reduce lines.
More elevators to facilitate movement.
Expanded Fan Fest family entertainment area; New York Mets interactive museum and Hall of Fame.
Sit-down restaurant with field-view seating.
State-of-the-art video boards and sound system.
Right field "porch" in fair territory extends eight feet out over the field.
Parking lot will be more efficient as new points of entry will be created and the number of parking spaces kept the same.

8,800 spaces between on-site and adjacent off-site parking.
3,680 spaces in remote lots in surrounding areas.

Subway ramp which connects the subway platform to the ballpark plaza will be maintained.
Exterior facade and main entry rotunda inspired by Ebbets Field.
Exposed steel will be painted a very dark blue and the seats will be dark green.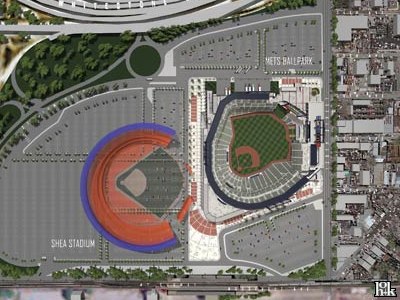 Recommended Reading (bibliography):
Babe Ruth Slept Here: The Baseball Landmarks of New York City by Jim Reisler.
Take Me Out to the Ballpark: An Illustrated Tour of Baseball Parks Past and Present by Josh Leventhal and Jessica Macmurray.
The Ballpark Book: A Journey Through the Fields of Baseball Magic (Revised Edition) by Ron Smith and Kevin Belford.
Stadia: A Design and Development Guide by Geraint John and Rod Sheard.
City Baseball Magic: Plain Talk and Uncommon Sense about Cities and Baseball Parks by Philip Bess.
Field of Schemes: How the Great Stadium Swindle Turns Public Money into Private Profit (2nd Edition) by Joanna Cagan and Neil deMause.
Public Dollars, Private Stadiums: The Battle over Building Sports Stadiums by Kevin J. Delaney and Rick Eckstein.
Sports, Jobs, and Taxes: The Economic Impact of Sports Teams and Stadiums by Roger G. Noll and Andrew Zimbalist.
Modern Marvels - Domed Stadiums.
Help us provide a better web site by completing our feedback form
All images courtesy of the New York Mets and HOK Sport.
Updated April 2009
Tickets to NCAA Basketball Tournament, College Football Bowl, NCAA Football, New York Mets, New York Yankees, Paul McCartney, Wicked New York, NCAA Basketball Tournament, College Football Bowl, NCAA Football and Wicked New York provided by Ticket Triangle.
BALLPARKS © 1996-2014 by Munsey & Suppes.