Busch Stadium
A.K.A. Busch Stadium III
St. Louis, Missouri
Tenant: St. Louis Cardinals
Construction began: January 17, 2004
First game: April 4, 2006 (AAA Memphis Redbirds vs AA Springfield Cardinals)
First Cardinals game: April 10, 2006 (against the Milwaukee Brewers)
Capacity: 46,861 (43,975 on Opening Day 2006)
Surface: Grass
Architect: HOK Sport
Construction: Hunt Construction Group
Owner: St. Louis Cardinals
Cost: $365 million (original estimate was $344.8 million)
Public financing: $45 million long-term loan from St. Louis County.
Private financing: $90.1 million from the Cardinals, $9.2 million in interest earned on the construction fund, and $200.5 million in bonds to be paid over a 22-year period ($15.9 million per year) by the team. Anheuser-Busch agreed to a 20 year naming rights deal (through the 2025 season) which will help offset construction costs.
St. Louis Cardinals tickets:
Location: Left field (N), Clark Street; third base (W), Eighth Street; first base (S), Poplar Street & I-64; right field (E), Broadway.
Dimensions: Left field: 336 feet; left-center: 385 feet; center field: 400 feet; right-center: 385 feet; right field: 335 feet.
Fences: 9 feet high from foul pole to fole pole.
The St. Louis Cardinals became the first MLB team to finance their own ballpark since the Giants began construction on AT&T Park in 1997. Construction began in January 2004 and was ready for Opening Day 2006. The new Busch Stadium shares some of the site of the stadium it replaced. Similar to how Great American Ball Park in Cincinnati was built, part of the Cardinals' prior ballpark was torn down, as needed, to make room for their new ballpark.
The project site, from the northern edge of current old Busch Stadium (Walnut Street) to the base of the elevated Interstate 40/64 highway (Poplar Street), gradually slopes down about 40 feet. This seemingly ordinary topographical fact created a fantastic site condition for the new Busch Stadium that the architects exploited in two ways.
First, by placing home plate in the southwest corner of the site and lowering seating and scoreboard heights in center field, the majority of spectators have dramatic views of the Gateway Arch and the downtown St. Louis skyline.
Second, after Clark Street was "rebuilt" through the site after the old Busch Stadium came down, fans and motorists traveling along Clark Street were able to enjoy unobstructed views into the ballpark, including the playing field itself! These views strengthened and extended the connection between the new ballpark and the emerging urban neighborhood on the north side of Clark Street called Ballpark Village. Perhaps the best outfield views of all will be from the balconies and rooftops of the new buildings in the Ballpark Village.
The Cardinals intend to partner with developers to create a mix of uses in the Ballpark Village, including retail, entertainment, office, and residential facilities. A public plaza will provide a perfect gathering spot for fans before and after games. In addition, the Cardinals will locate their team museum - one of the best in all of baseball - in the Ballpark Village.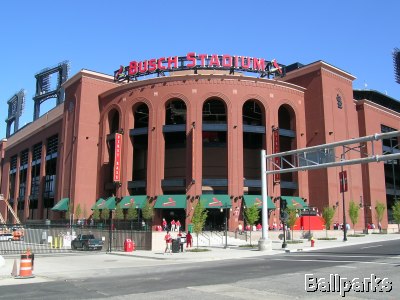 The design of the new Busch Stadium took into account the context of downtown St. Louis, the colorful history of the Cardinals, and the best attributes of the most successful ballparks built around baseball since the construction of Oriole Park at Camden Yards in 1992. With classic arched openings recalling the nearby Cupples Station warehouses to the rich warm colors of the Wainright building, this ballpark is inspired by the classics. However, its creative use of old and new materials, from brick and concrete to exposed steel and glass, creates an architectural statement that stands on its own, with a modern sensibility appropriate for the 21st century.
Of course, the premium spaces of the new Busch Stadium offer the comforts of air conditioned space and gourmet food offerings to many of the fans. But all fans are able to experience service upgrades in several key areas. Wider concourses all around, elevators and escalators between levels, and perfect baseball sight lines for all seats in the ballpark are obvious improvements over the old Busch Stadium.
Every fan who comes to the ballpark also enjoys improved concessions, family entertainment options, and restroom conveniences that were impossible to provide in the old stadium due to its age and restricted configuration. There are also a number of unique standing room and group gathering areas that give fans limitless opportunities to roam the ballpark and take in spectacular views of the action on the field.
Busch Stadium Trivia:
Capacity was originally projected to be over 46,000.
Approximately 6,000 seats were not available until the second half of the 2006 season.
Site of the 2009 All-Star game.
More on Busch Stadium:
Recommended Reading (bibliography):
St. Louis' Big League Ballparks by Joan M. Thomas.
The Spirit of St. Louis: A History of St. Louis Cardinals and Browns by Peter Golenbock.
Fodor's Baseball Vacations, 3rd Edition: Great Family Trips to Minor League and Classic Major League Ballparks Across America by Bruce Adams and Margaret Engel.
The Ultimate Baseball Road-Trip: A Fan's Guide to Major League Stadiums by Joshua Pahigian and Kevin O'Connell.
Joe Mock's Ballpark Guide by Joe Mock.
Take Me Out to the Ballpark: An Illustrated Tour of Baseball Parks Past and Present by Josh Leventhal and Jessica Macmurray.
The Ballpark Book: A Journey Through the Fields of Baseball Magic (Revised Edition) by Ron Smith and Kevin Belford.
Ballparks: A Panoramic History by Marc Sandalow and Jim Sutton.
Field of Schemes: How the Great Stadium Swindle Turns Public Money into Private Profit (2nd Edition) by Joanna Cagan and Neil deMause.
Public Dollars, Private Stadiums: The Battle over Building Sports Stadiums by Kevin J. Delaney and Rick Eckstein.
Sports, Jobs, and Taxes: The Economic Impact of Sports Teams and Stadiums by Roger G. Noll and Andrew Zimbalist.
St. Louis Cardinals
Busch Stadium
700 Clark Avenue
St. Louis, Missouri 63102
Help us provide a better web site by completing our feedback form
All images © 2006 by Paul Munsey.
Updated April 2007
Tickets to Cardinals Astros, Cardinals Cubs, NCAA Basketball Tournament, College Football Bowl, NCAA Football, St. Louis Rams, Paul McCartney and St. Louis Cardinals provided by Ticket Triangle.
BALLPARKS © 1996-2014 by Munsey & Suppes.