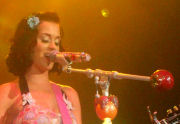 Katy Perry has become one of the music and entertainment's true breakout stars of the past few years. Right now, she's in the midst of a global tour called the California Dreams Tour. The tour is taking her all over the world, from the United States, to Australia, Asia, Canada, South America and Europe, lasting for an astonishing nine months from beginning to end.

Both of her recent albums have been smash hits, with One of the Boys featuring hot songs like "I Kissed a Girl" and "Waking Up in Vegas", and selling over 5 million copies. Her latest album was called Teenage Dream, and features smash hits like "California Gurls" featuring Snoop Dogg. It debuted at number one in the US Billboard 200, and sold nearly 200,000 copies in its first week.

All of this came after her first album a decade ago, which surprisingly focused on gospel music and themes. Clearly she has changed a lot since then, and isn't afraid to express herself and do things her own way.

Perry is well known not only for her creative party music, which incorporates all kinds of themes and influences, but also for her whole flirty, outgoing and at times outrageous persona. Fans of Katy Perry definitely don't want to miss out on the sights and sounds of the California Dreams Tour, so be sure to pick up your tickets to her concerts right here while you can.

Ballparks.com through its affiliation with TicketTriangle.com, an online ticket agency offering concert tickets, has been selling tickets to all events in thousands of venues world wide since 2005. To find out more information about a concert, theater, or sporting event please visit one of the links above for more information.
With this partnership we are able to offer you tickets to tens of thousands of events with several million tickets in inventory. We are not affiliated with any venue or arena, and all the tickets listed through Ticket Triangle are tickets listed in a national database by hundreds brokers all over the country. These tickets are being sold on what is called the secondary market. This means the tickets have already been purchased and have been sold to these brokers for subsequent resale at a marked up price at market value. All tickets sold through Ticket Triangle are 100% guaranteed to be authentic.
To order concert tickets online please click a link above. We sell tickets to all types of concerts and other events.
We offer premium tickets to your favorite concert as well as other events throughout the world. We can put you into the seat of your choice.
We have available some of the the hardest to find concert tickets along with seats for other world tour concerts or events. Whether you are looking front row tickets, box seats, backstage passes, a suite, or club seats, we have the largest selection anywhere. Our inventory of our Katy Perry tickets are fairly cheap, a good bargain, and usually some of the lowest prices available. Much of the inventory we offer are for sold out events and often for a significant disount cmpared to many competitors.

News about Katy Perry
Yes, Katy Perry definitely hung out at Jazz Fest in disguise before her big performa - (Apr 27, 2019 3:01PM)
Katy Perry, with the Soul Rebels and Gospel Soul Children, gave Jazz Fest a pop show to remem - (Apr 27, 2019 2:03PM)
Katy Perry says she?s not pregnant, just full, at Jazz F - (Apr 27, 2019 1:37PM)
Hungry for Jazz Fest, Katy Perry snuck in a visit before headlining - (Apr 27, 2019 11:13AM)
Katy Perry, Leon Bridges headline Jazz Fest Satur - (Apr 27, 2019 8:39AM)
44 Photos Proving How Much Katy Perry, Hair Color Chameleon, Has Changed in 15 Ye - (Apr 26, 2019 10:59AM)
Engaged stars Katy Perry and Orlando Bloom sell old d - (Apr 26, 2019 10:58AM)
Katy Perry Stuns In Electric Red Jumpsuit For Date With Orlando Bl - (Apr 25, 2019 2:13PM)
Katy Perry Pulls Off This Season?s Riskiest Makeup Tr - (Apr 25, 2019 7:21AM)
Paisley Park tours draw celebs, including Katy Perry, Bruno Mars and Shania Tw - (Apr 24, 2019 7:52AM)