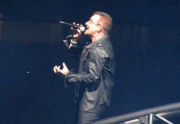 U2 is a rock band from Ireland that started in 1976. Their first album was called "Boy" and their first big hit was "Sunday Bloody Sunday".

They also became significant international stars after the release of 1987's "Joshua Tree". Other big albums include "Rattle and Hum" and Achtung Baby. They are one of the few bands to be consistently successful spanning 3+ decades.

U2 has been one of the biggest names in rock across the globe for decades now. They have won more Grammy awards than any other artist in history, they have sold over 150 million albums globally, and they put forth a political and socially conscious message, as they continue to support many notable causes and contribute financially and with awareness to the greater good.

Their most recent album was released in 2009, entitled No Line on the Horizon. Like all of their albums since 1987's The Joshua Tree, which sold more than 25 million copies across the globe, it peaked at or near the number 1 position on the charts in all of the major countries and locales. Just another 5 million albums sold, no big thing for U2, Bono and company.

The band right now is on tour yet again, currently in the third leg of their three-year U2 360 degree tour. Leg 3 is taking them throughout the spring and summer of 2011, and has been featuring supporting artists ranging from Muse to The Fray to Interpol, and others.

Their tour this summer will take them up and down the east and west coasts of the United States, with some dates in the mid west and Canada thrown in as well. U2 shows are spectacular and offer true epic, once in a lifetime experiences, so don't miss out on the U2 360 degree tour if you can find some tickets to the show nearest you.
Ballparks.com through its affiliation with TicketTriangle.com, an online ticket agency offering concert tickets, has been selling tickets to all events in thousands of venues world wide since 2005. To find out more information about a concert, theater, or sporting event please visit one of the links above for more information.
With this partnership we are able to offer you tickets to tens of thousands of events with several million tickets in inventory. We are not affiliated with any venue or arena, and all the tickets listed through Ticket Triangle are tickets listed in a national database by hundreds brokers all over the country. These tickets are being sold on what is called the secondary market. This means the tickets have already been purchased and have been sold to these brokers for subsequent resale at a marked up price at market value. All tickets sold through Ticket Triangle are 100% guaranteed to be authentic.
To order concert tickets online please click a link above. We sell tickets to all types of concerts and other events.
We offer premium tickets to your favorite concert as well as other events throughout the world. We can put you into the seat of your choice.
We have available some of the the hardest to find concert tickets along with seats for other world tour concerts or events. Whether you are looking front row tickets, box seats, backstage passes, a suite, or club seats, we have the largest selection anywhere. Our inventory of our U2 tickets are fairly cheap, a good bargain, and usually some of the lowest prices available. Much of the inventory we offer are for sold out events and often for a significant disount cmpared to many competitors.

News about U2
U2 doc, Pitt, Clooney films head to Toronto fest - (Jul 29, 2011 11:06PM)
U2 tribute band rocks Lancaster Festival stage - (Jul 29, 2011 4:50AM)
U2 360 Tour: highlights from around the country - (Jul 28, 2011 2:31PM)
Medical teams ready for U2 concert - (Jul 28, 2011 8:48AM)
U2 still want to kick ass - (Jul 28, 2011 7:43AM)
U2 brings 60,000 people to campus with few problems outside of traffic - (Jul 26, 2011 10:40PM)
U2, Westlife dedicate songs to Amy Winehouse - (Jul 26, 2011 9:15PM)
U2 documentary to premiere at Toronto International Film Festival - (Jul 26, 2011 1:15PM)
U2 Documentary Will Open Toronto Film Festival - (Jul 26, 2011 11:28AM)
U2 stage ready for possible record-breaker at Heinz Field - (Jul 25, 2011 11:46PM)