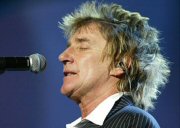 Rod Stewart has been putting out music for over 40 years, which can be pretty hard to believe. He's one of the most famous male artists of all time, and he's also one of the best selling. He's sold more than 100 million albums all across the globe, and that's what four decades of fame and 25 studio albums will help you accomplish.

Just because Stewart has been around forever, it doesn't mean that he's done putting out new music either. In 2010, he released Fly Me to the Moon... the Great American Songbook Volume V, and in 2009 he released Soulbook. In 2011 he also released a compilation CD, The Best Of... The Great American Songbook, featuring hits and notable tracks from all of those albums.

Rod Stewart is in the midst of an international tour which will last through the first few months of 2012. He begins with several shows in South America, and then he'll play about 10 shows straight in November 2011 in Las Vegas, at the Colosseum at Caesars Palace. After that, he'll take a bit of time off before heading to Ausralia and putting on a number of concerts there as well.

Stewart is a legend and he's still going strong, and you don't want to pass up on a Rod Stewart concert if he's playing in your area. Four decades of great music later and he's still putting on a show.
Ballparks.com through its affiliation with TicketTriangle.com, an online ticket agency offering concert tickets, has been selling tickets to all events in thousands of venues world wide since 2005. To find out more information about a concert, theater, or sporting event please visit one of the links above for more information.
With this partnership we are able to offer you tickets to tens of thousands of events with several million tickets in inventory. We are not affiliated with any venue or arena, and all the tickets listed through Ticket Triangle are tickets listed in a national database by hundreds brokers all over the country. These tickets are being sold on what is called the secondary market. This means the tickets have already been purchased and have been sold to these brokers for subsequent resale at a marked up price at market value. All tickets sold through Ticket Triangle are 100% guaranteed to be authentic.
To order concert tickets online please click a link above. We sell tickets to all types of concerts and other events.
We offer premium tickets to your favorite concert as well as other events throughout the world. We can put you into the seat of your choice.
We have available some of the the hardest to find concert tickets along with seats for other world tour concerts or events. Whether you are looking front row tickets, box seats, backstage passes, a suite, or club seats, we have the largest selection anywhere. Our inventory of our Rod Stewart tickets are fairly cheap, a good bargain, and usually some of the lowest prices available. Much of the inventory we offer are for sold out events and often for a significant disount cmpared to many competitors.

News about Rod Stewart
Sir Rod Stewart chooses the Tracks of My Ye - (Dec 2, 2018 10:14AM)
Sammy Hagar Recalls Frontman Lessons from Rod Stew - (Dec 2, 2018 12:01AM)
Supermodel Caprice revealed as the woman who nearly split up Rod Stewart and Penny Lancas - (Dec 1, 2018 10:01AM)
Rod Stewart adds second Glasgow tour date due to dem - (Nov 29, 2018 8:11PM)
Rod Stewart just announced an Australian t - (Nov 27, 2018 2:13PM)
Celtic-daft rocker Rod Stewart receives mixed reaction on social media after taking to Strictly Come Dancing ballr - (Nov 25, 2018 7:18AM)
Rod Stewart wife and children: Is Sir Rod Stewart married? Does he have childr - (Nov 25, 2018 2:10AM)
Rod Stewart to play Glasgow show next year and here is how you can get tick - (Nov 23, 2018 5:24AM)
Rod Stewart announces Newcastle tour d - (Nov 18, 2018 7:56PM)