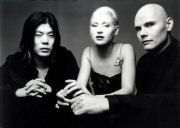 The Smashing Pumpkins were one of the biggest bands of the 1990s across any genre, and by the mid to late 90s they really ruled the alternative rock scene. Much to the dismay of their fans, they broke up and were out of action for half a decade, but they stormed back recently and are putting out new music once again, hitting the road for live tours, and more.

Their biggest success was 1995's Mellon Collie and The Infinite Sadness, which went 9x Platinum in the United States behind hit singles like "Bullet with Butterfly Wings", "1979" and "Tonight, Tonight". In 2007 they released their comeback CD, Zeitgeist, and their more recent Teargarden by Kaleidyscope has been available for download while not being available for purchase as a CD.

Seeing a Smashing Pumpkins concert live is a great way to soak up all of the music and the real energy and passion behind it. This fall, Smashing Pumpkins is going on their The Other Side of the Kaleidyscope tour, with about a dozen shows in the United States in October at big venues across the country and major cities, and then about two dozen shows all throughout Europe in November and December, where they remain even more popular than they are in the US.

So check out the latest listings for the Smashing Pumpkins tour and pick up your tickets. It's great that the band is back together and touring, and while we all hope it lasts, you never know if the last tour is this one, so you don't want to pass up your chance to attend.
Ballparks.com through its affiliation with TicketTriangle.com, an online ticket agency offering concert tickets, has been selling tickets to all events in thousands of venues world wide since 2005. To find out more information about a concert, theater, or sporting event please visit one of the links above for more information.
With this partnership we are able to offer you tickets to tens of thousands of events with several million tickets in inventory. We are not affiliated with any venue or arena, and all the tickets listed through Ticket Triangle are tickets listed in a national database by hundreds brokers all over the country. These tickets are being sold on what is called the secondary market. This means the tickets have already been purchased and have been sold to these brokers for subsequent resale at a marked up price at market value. All tickets sold through Ticket Triangle are 100% guaranteed to be authentic.
To order concert tickets online please click a link above. We sell tickets to all types of concerts and other events.
We offer premium tickets to your favorite concert as well as other events throughout the world. We can put you into the seat of your choice.
We have available some of the the hardest to find concert tickets along with seats for other world tour concerts or events. Whether you are looking front row tickets, box seats, backstage passes, a suite, or club seats, we have the largest selection anywhere. Our inventory of our Smashing Pumpkins tickets are fairly cheap, a good bargain, and usually some of the lowest prices available. Much of the inventory we offer are for sold out events and often for a significant disount cmpared to many competitors.

News about Smashing Pumpkins
Smashing Pumpkins Rocked a Greatest Hits Set Last Night and Now We Can Die Ha - (Dec 4, 2018 10:04PM)
Ever wanted to see Smashing Pumpkins and Hanson covering Fleetwood Mac? Well, now you - (Dec 4, 2018 1:40AM)
Reunited Smashing Pumpkins Celebrate Holidays Alongside Albert Hammond Jr. During Chicago Homecom - (Dec 4, 2018 1:13AM)
Drab Majesty End 2018 Sharing a Stage With the Smashing Pumpk - (Dec 4, 2018 12:00AM)
The Smashing Pumpkins reunite again in honor of their 30th annivers - (Dec 3, 2018 1:16PM)
Watch Smashing Pumpkins Bring Out Rise Against?s Tim McIlrath to Cover The Cars? ?Dangerous Ty - (Dec 3, 2018 12:52AM)
Smashing Pumpkins show it still has what it takes in St. Louis conc - (Dec 2, 2018 2:03PM)
Smashing Pumpkins show it still has what it takes during Stifel Theatre conc - (Dec 2, 2018 7:12AM)
Smashing Pumpkins Debut The Cure Cover & Originals In Madi - (Nov 29, 2018 2:51AM)


Smashing Pumpkins Phoenix