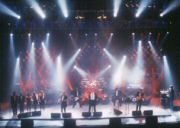 Trans-Siberian Orchestra Tickets

2018 - 2019 Schedule of Events
Trans-Siberian Orchestra Milwaukee
December 30, 2018
Sunday, 8 PM
Fiserv Forum
Milwaukee, WI
Buy Now
Trans-Siberian Orchestra Cleveland
December 30, 2018
Sunday, 8 PM
Quicken Loans Arena
Cleveland, OH
Buy Now
Trans-Siberian Orchestra Milwaukee
December 30, 2018
Sunday, 3 PM
Fiserv Forum
Milwaukee, WI
Buy Now
Trans-Siberian Orchestra Cleveland
December 30, 2018
Sunday, 3 PM
Quicken Loans Arena
Cleveland, OH
Buy Now

The Trans-Siberian Orchestra Winter Tour 2011 is going to be a unique, really special opportunity for you to go and check out one of their fantastic performances. There's really nothing like it, and the tour features a whole host of opportunities for you to see a show and pick up local Trans-Siberian Orchestra tickets when they come to your town.

While they have sold over 8 million albums since they got together, perhaps even more impressively, they have sold over 8 million concert tickets. They are routinely listed as one of the best bands to see live, and one of the best touring acts, and it's something you really need to see in person and experience in order to understand. You'll take in a performance with a full orchestra, a huge light show with pyrotechnics, all kinds of special events, moving stage pieces and more.

The Trans-Siberian Orchestra tours are split up with TSO East and TSO West touring groups, which allows the band to play all over the country at once. So, on the same night that the band is playing in Manchester, New Hampshire, they are also playing in Wichita Falls, Texas, and in both locales they are playing two shows on the same day, one afternoon and one evening. That's the set pattern and that's what you can expect elsewhere, with a seemingly endless array of shows in a two month span.

After this, the Trans-Siberian Orchestra will be going on their Beethoven's Last Night 2012 Tour. Whenever you get an opportunity to see them live, you have to do it, so pick up your tickets while you can and see their fantastic show.
Ballparks.com through its affiliation with TicketTriangle.com, an online ticket agency offering concert tickets, has been selling tickets to all events in thousands of venues world wide since 2005. To find out more information about a concert, theater, or sporting event please visit one of the links above for more information.
With this partnership we are able to offer you tickets to tens of thousands of events with several million tickets in inventory. We are not affiliated with any venue or arena, and all the tickets listed through Ticket Triangle are tickets listed in a national database by hundreds brokers all over the country. These tickets are being sold on what is called the secondary market. This means the tickets have already been purchased and have been sold to these brokers for subsequent resale at a marked up price at market value. All tickets sold through Ticket Triangle are 100% guaranteed to be authentic.
To order concert tickets online please click a link above. We sell tickets to all types of concerts and other events.
We offer premium tickets to your favorite concert as well as other events throughout the world. We can put you into the seat of your choice.
We have available some of the the hardest to find concert tickets along with seats for other world tour concerts or events. Whether you are looking front row tickets, box seats, backstage passes, a suite, or club seats, we have the largest selection anywhere. Our inventory of our Trans-Siberian Orchestra tickets are fairly cheap, a good bargain, and usually some of the lowest prices available. Much of the inventory we offer are for sold out events and often for a significant disount cmpared to many competitors.

News about Trans-Siberian Orchestra
TSO lays on the holiday cheer, explosively, at Little Caesars Ar - (Dec 30, 2018 2:18AM)
Trans-Siberian Orches - (Dec 29, 2018 2:27PM)
Review: Trans-Siberian Orchestra celebrates the season and so much m - (Dec 28, 2018 10:33PM)
5 things to do in Pittsburgh this weekend: Dec. 28 - (Dec 27, 2018 11:45PM)
Trans-Siberian Orchestra moves on without its creative fo - (Dec 26, 2018 11:56PM)
Why Christmas Can?t Quit Trans-Siberian Orchestra, 20 Years La - (Dec 22, 2018 3:03AM)
Trans-Siberian Orchestra Brings Its 20th Anniversary Tour to the Q Next Week - (Dec 21, 2018 4:44AM)
Trans-Siberian Orchestra Returns to San Antonio for Night of Holiday Tunes and Intense Laser S - (Dec 20, 2018 11:31PM)