Yankee Stadium
Bronx, New York
Tenant: New York Yankees (AL)
Opened: April 18, 1923
Closed: September 30, 1973
Reopened: April 15, 1976
First night game: May 28, 1946
Last game: September 21, 2008
Demolition: 2009
Surface: Merion Bluegrass

Architect: Osborn Engineering (1923); Praeger-Kavanaugh-Waterbury (1976)
Construction: White Construction Company (1923).
Owner: New York Yankees (1923-1971); City of New York (since 1971)
Cost: $2.5 million (1923); renovation: $48 million, but some estimate the actual cost with debt service at over $160 million (1976).
New York Yankees tickets:
Capacity: 58,000 (1923); 62,000 (1926); 82,000 (1927); 67,113 (1928); 62,000 (1929); 71,699 (1937); 70,000 (1942);67,000 (1948); 67,205 (1958); 67,337 (1961); 67,000 (1965); 65,010 (1971); 54,028 (1976); 57,145 (1977); 57,545 (1980).
Location: Left field (NE), East 161st Street; third base (NW), Doughly Street, later Ruppert Place; home plate (W), Major Degan Expressway/Interstate 87 and Harlem River; first base (SW), East 157th Street; right field (SE), River Avenue and IRT elevated tracks; in the southwest Bronx.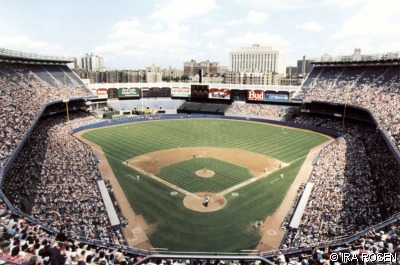 Dimensions: Left field: 280.58 (1923), 301 (1928), 312 (1976), 318 (1988); left side of bullpen gate in short left-center: 395 (1923), 402 (1928), 387 (1976), 379 (1985); right side of bullpen gate: 415 (1937); deepest left-center: 500 (1923), 490 (1924), 457 (1937), 430 (1976), 411 (1985), 399 (1988); left side of cente-field screen: 466 (1937); center field: 487 (1923), 461 (1937), 463 (1967), 417 (1976), 410 (1985), 408 (1988); deepest right-center: 429 (1923), 407 (1937), 385 (1976); left side of bullpen gate in short right-center: 350 (1923), 367 (1937), 353 (1976); right side of bullpen gate: 344 (1937); right field 294.75 (1923), 295 (1930), 296 (1939), 310 (1976), 314 (1988); backstop: 82 (1942), 80 (1953), 84 (1976); foul territory: large for the catcher behind home plate, but small for fielders down the foul lines.
Fences: Left-field foul line: 3.92 (3 wire above .92 concrete, 1923), 8 (canvas, 1976); left-center, left of visitors' bullpen: 3.58 (3 wire above .58 concrete); right of visitors' bullpen: 7.83 (3 wire above 4.83 concrete), 7 (canvas, 1976); center field, left screen when up for hitters' background: 20 (1953), 22.25 (1959), 22.42 (1954); screen when down: 13.83, (canvas, 1976); right-center, right of screen: 14.5 (3 wire above 11.5 concrete, 1923); left of home bullpen: 7.83 (3 wire above 4.83 concrete, 1923); right of home bullpen: 3.58 (3 wire above .58 concrete, 1923), 8 (canvas, 1976), 9 (canvas, 1979); right field foul line: 3.75 (3 wire above .75 concrete, 1923), 10 (canvas, 1976).

On February 6, 1921, the Yankees announced the purchase of 10 acres of property in the west Bronx. The land, purchased from the estate of William Waldorf Astor for $675,000, sat directly across the Harlem River from the Polo Grounds, where the Yankees' had played since 1913. On their newly acquired property, the Yankees would build the most famous ballpark in history.
As originally designed, Yankee Stadium was to feature three decks and a roof which completely encircled the playing field. However, ownership scaled back the plan such that the grandstand didn't quite extend to the foul poles. The left field grandstand was extended in 1928. In 1937, the right field grandstand was extended and concrete bleachers replaced the original wooden ones, bringing the stadium to its current configuration.
For forty years, Yankee Stadium was home to a steady stream of championship teams. Babe Ruth and Lou Gehrig passed on their legacy to Joe DiMaggio and Phil Rizzuto, who then passed it on to Yogi Berra, Mickey Mantle and Roger Maris. So mighty were the Yankees, and such a draw was the team and its stadium, that by 1958 the the Giants and Dodgers, New York's other Major League Baseball teams, had moved to California. For four years, from 1958 through 1961, there was only one place to go to watch Major League Baseball in New York City.
However, in the late sixties, an uncharacteristic drought of Yankee championships befell the team. Meanwhile, the expansion Mets where playing and winning championships in the new Shea Stadium in Flushing Meadow. By the early seventies, Yankee Stadium had become an old and obsolete stadium in a decaying neighborhood hosting a mediocre team.
Renovations were made in 1966 and 1967, but more than that was needed. In 1972, the team sold their stadium to the city and signed a thirty year lease. During the 1974 and 1975 seasons, the Yankees played at Shea Stadium while the city made major renovations to Yankee Stadium. The many steel columns which supported the roof and upper decks were removed, and the upper decks were cantilevered over the lower deck. The original roof and its famous copper facade were removed and replaced with a smaller, more modern roof. The facade was replicated above the new scoreboard which ran the entire length of the bleachers.
The renovated Yankee Stadium opened with much fanfare in 1976, and the Yankees wasted no time living up to their "new" stadium. The team appeared in the World Series in each of the next three years, winning the fall classic twice. Players like Reggie Jackson, Catfish Hunter and Ron Guidry picked up where Mantle and Berra left off a decade earlier. Except for brief period in the early 1990s, the Yankees have always fielded winning teams since their ballpark was renovated. In the late 1990s and 2000s, the Yankees have been the team to beat, appearing in six World Series while winning four of them. A cavalcade of stars, including Derek Jeter and Roger Clemens, have graced Yankee Stadium during these years.
On Sunday, September 21, 2008, Yankee Stadium closed its gates for good. Before the game, fans were allowed to walk on the field, and several former Yankees stars attended a formal ceremony. After a rain delay, the Yankees defeated the Baltimore Orioles 7-3. The following season, the team began playing at the new Yankee Stadium, built across the street.
Yankee Stadium Trivia:
Left-center field monuments and plaques:

Yankee Stadium (I): monuments in fair territory: Lou Gehrig on the left, Miller Huggins in the middle, Babe Ruth on the right.
Yankee Stadium (II): monuments beyond the fence same as Yankee Stadium I, plus the addition of Joe DiMaggio and Mickey Mantle. Plaques beyond the fence of Ed Barrow, Jacob Ruppert, Joe DiMaggio, Mickey Mantle, Casey Stengel, Joe McCarthy, Pope Paul VI, Thurman Munson, Pope John Paul II, Billy Martin, Whitey Ford, Lefty Gomez, Roger Maris, Allie Reynolds, Elston Howard, Phil Rizzuto, Bill Dickey, Yogi Berra, Reggie Jackson and Don Mattingly.

A ball hitting the foul pole in the 1930s was in play, not a homer.
"Death Valley" in left-center.
Green curtain in center is sometimes raised and lowered like a window shade to force visiting batters to face a background of white-shirted bleacher fans while allowing Yankees hitters to face a dark green background. Sometimes removed in World Series play to sell more seats.
Hosted the 1977, 1960 (II) and 1939 All-Star games.
Bleachers in right-center often called Ruthville and Gehrigville.
Warning track made of red cinders, later of red brick dust.
Underneath second base in Yankee Stadium (I) there was a 15-foot-deep brick-lined vault containing electrical, telephone, and telegraph connections for boxing events.
As originally constructed, from May 5, 1922, to April 18, 1923, three concrete decks extended from behind home plate to each corner, with a single deck in left-center and wooden bleachers around the rest of the outfield.
In the winter of 1927-1928 second and third decks were added to left-center and several rows of box seats were removed in left, extending the foul pole from 281 to 301 feet.
During the 1936 season, the winter of 1936-1937, and continuing through the 1937 season, the wooden bleachers were replaced with concrete ones. During the 1937 season second and third decks were added in right-center. The bleacher changes shortened straightaway center from 490 to 461 feet and reduced seating capacity from the 80,000s to the 70,000s.
As the outfield bench seats were gradually replaced with chair seats in the 1930s and 1940s, the seating capacity gradually dropped from over 70,000 to about 67,000.
"Bloody Angle" between bleachers and right-field foul line in 1923 season was very asymmetrical and caused crazy bounces. Eliminating this in 1924 caused the plate to be moved 13 feet and the deepest left-center corner to change from 500 to 490 feet.
Auxiliary scoreboards were built in the late 1940s, which covered up the 367 right-center sign and the 415 left-center sign.
On September 25, 1966, only 413 people, the smallest crowd in Yankee Stadium history, watched the White Sox beat the Yankees 4-1.
Minor modifications were made in the winter of 1966-1967. During this work, a new 463 sign and a 433 sign appeared in the power alleys, and the exterior was painted blue and white.
A 500 pound steel joint fell from the upper deck in April 1998 prompting the Yankees to play a home game at Shea Stadium and trade three home games with the Detroit Tigers.
Original street address was 800 Ruppert Place.
More on Yankee Stadium:
Recommended Reading (bibliography):
The Diamond in the Bronx: Yankee Stadium and the Politics of New York by Neil J. Sullivan.
Yankee Stadium: 75 Years of Drama, Glamor, and Glory by Ray Robinson, Christopher Jennison.
Yankee Stadium in Your Pocket: The Fan's Guide to Yankee Stadium by Kevin T. Dame, Ryoji Yoshida and Christine Dame Yoshida.
Babe Ruth Slept Here: The Baseball Landmarks of New York City by Jim Reisler.
Fodor's Baseball Vacations, 3rd Edition: Great Family Trips to Minor League and Classic Major League Ballparks Across America by Bruce Adams and Margaret Engel.
The Ultimate Baseball Road-Trip: A Fan's Guide to Major League Stadiums by Joshua Pahigian and Kevin O'Connell.
Joe Mock's Ballpark Guide by Joe Mock.
Take Me Out to the Ballpark: An Illustrated Tour of Baseball Parks Past and Present by Josh Leventhal and Jessica Macmurray.
The Ballpark Book: A Journey Through the Fields of Baseball Magic (Revised Edition) by Ron Smith and Kevin Belford.
Ballparks: A Panoramic History by Marc Sandalow and Jim Sutton.
Field of Schemes: How the Great Stadium Swindle Turns Public Money into Private Profit (2nd Edition) by Joanna Cagan and Neil deMause.
Public Dollars, Private Stadiums: The Battle over Building Sports Stadiums by Kevin J. Delaney and Rick Eckstein.
Sports, Jobs, and Taxes: The Economic Impact of Sports Teams and Stadiums by Roger G. Noll and Andrew Zimbalist.
City Baseball Magic: Plain Talk and Uncommon Sense about Cities and Baseball Parks by Philip Bess.
Diamonds: The Evolution of the Ballpark by Michael Gershman.
Green Cathedrals: The Ultimate Celebration of All 273 Major League and Negro League Ballparks by Philip J. Lowry.
Lost Ballparks: A Celebration of Baseball's Legendary Fields by Lawrence S. Ritter.
Roadside Baseball: A Guide to Baseball Shrines Across America by Chris Epting.
The Story of America's Classic Ballparks (VHS).
New York Yankees
Yankee Stadium
E. 161st Street & River Avenue
Bronx, NY 10451
Help us provide a better web site by completing our feedback form
PHOTOGRAPHS:
Aerial view of Yankee Stadium © 1992 by Mike Smith.
Inside Yankee Stadium © 1999 by Ira Rosen.
Yankee Stadium Panorama © 1991 by Andy Jurinko.
View of Yankee Stadium in the 1970s courtesy of George Tinker.
View of Yankee Stadium in the 1950s courtesy of George Tinker.
View from left field courtesy of the NY Convention & Visitors Bureau.
View outside old Yankee Stadium by Munsey & Suppes.
Updated September 2008
Tickets to Yankees Mets, Yankees Red Sox, NCAA Basketball Tournament, College Football Bowl, NCAA Football, New York Yankees, New York Giants, Paul McCartney and Wicked New York provided by Ticket Triangle.
BALLPARKS © 1996-2014 by Munsey & Suppes.