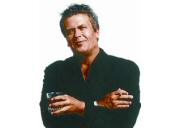 Ron White Tickets Las Vegas

| | | |
| --- | --- | --- |
| Las Vegas, NV | Friday, June 28, 2019 10:00PM | Buy Now |
| Las Vegas, NV | Saturday, June 29, 2019 10:00PM | Buy Now |
| Las Vegas, NV | Friday, August 16, 2019 10:00PM | Buy Now |
| Las Vegas, NV | Saturday, August 17, 2019 10:00PM | Buy Now |
| Las Vegas, NV | Friday, October 25, 2019 10:00PM | Buy Now |
| Las Vegas, NV | Saturday, October 26, 2019 10:00PM | Buy Now |
| Las Vegas, NV | Friday, December 6, 2019 10:00PM | Buy Now |
| Las Vegas, NV | Saturday, December 7, 2019 10:00PM | Buy Now |
| Las Vegas, NV | Friday, December 13, 2019 10:00PM | Buy Now |
| Las Vegas, NV | Saturday, December 14, 2019 10:00PM | Buy Now |

Click here to find or order
Ron White Concert Tickets

Ron White has been one of the most famous comedians of the past decade or two, as he has made waves with the Blue Collar Comedy Tour as well as his own solo work, as he has sold over 10 million CD and DVDs. Known as Tater Salad, he's also known for drinking from a cup of whiskey on stage, and for his most famous joke or punchline, "You can't fix stupid".

His latest comedy album was 2009's Behavioral Problems, and that peaked at number 1 on the US Comedy charts, as did his previous album from 2006, the aforementioned You Can't Fix Stupid. That did so well it actually got as high as number 14 on the main US Billboard charts as well.

The thing that makes any great comedian great is staying busy and continually hitting the road. That's part of the reason why Ron White is able to stay so popular and connect with his fans so much as well. He's busy throughout the fall and winter of 2011, putting on dozens of shows as he zig-zags the country.

Don't worry if the Ron White tickets for the show in your town are sold out either, because in many of these stops he's putting on back to back shows on separate nights to accommodate his many fans. So check out the dates, and prepare to see his distinctive humor in person for a laughing good time.

Ballparks.com in its partnership with TicketTriangle.com, an online ticket agency offering Ron White tickets and other concert tickets, has been selling tickets to all events in thousands of venues world wide since 2005. To find out more information about a concert, theater, or sporting event please visit one of the links above for more information.
With this partnership we are able to offer you tickets to tens of thousands of events with several million tickets in inventory. We are not affiliated with any venue or arena, and all the tickets listed through Ticket Triangle are tickets listed in a national database by hundreds brokers all over the country. These tickets are being sold on what is called the secondary market. This means the tickets have already been purchased and have been sold to these brokers for subsequent resale at a marked up price at market value. All tickets sold through Ticket Triangle are 100% guaranteed to be authentic.
To order Ron White concert tickets online please click a link above. We sell tickets to all types of concerts and other events.
We offer premium tickets to your favorite concert as well as other events throughout the world. We can put you into the seat of your choice. If you wish buy Ron White tickets or are looking for the cheapest tickets available, please browse our selection. We are also a good source when you are unable to get access to Ron White presale tickets.
We have available some of the the hardest to find concert tickets along with seats for other world tour concerts or events. Whether you are looking for front row tickets, box seats, backstage passes, a suite, or club seats, we have the largest selection anywhere. Our inventory of our Ron White tickets are fairly cheap, a good bargain, and usually some of the lowest prices available. Much of the inventory we offer are for sold out events and often for a significant discount compared to many competitors.
Ron White is performing at Terry Fator Theatre - Mirage in Las Vegas, NV.
Shipping Policy
Most Ron White tickets sold and advertised on our site are done so using Federal Express. If your order is placed from outside the USA you will be required to use an international delivery service. Most tickets sold are shipped within 24 hours of when the order was placed. If a few cases if the tickets have not yet been distributed by the venues to the actual seller, they will not be shipped to you until a later date which will be communicated to you with an estimated date.
About Ticket Triangle
Ticket Triangle is not affiliated with Ron White, any venue or any box office. All tickets listed on Ticket Triangle are done so by reputable secondary market brokers from across the nation. The brokers find tickets to sold-out and popular events from numerous sources, including those who purchased tickets but cannot attend the events. We have access to this inventory and are able to give you the widest choice of tickets online for every event and performance in the country. The brokers who sell these tickets are strictly observed to make sure they are complying to a high standard of performance and customer service.

Como La Flor - Tribute To Selena Tickets Las Vegas - The Drums Tickets Las Vegas - Marie Osmond Tickets Las Vegas - Steely Dan Tickets Las Vegas - Ziggy Marley Tickets Las Vegas - The Chainsmokers Tickets Las Vegas
Escape To Margaritaville Tickets Las Vegas - Mac King Comedy Magic Show Tickets Las Vegas - Crazy Girls Tickets Las Vegas - Gladius - The Show Tickets Las Vegas - Absinthe Tickets Las Vegas - Cirque du Soleil - Ka Tickets Las Vegas
Titanic - The Artifact Exhibition Tickets Las Vegas - The Mentalist Tickets Las Vegas - Bill and Hillary Clinton Tickets Las Vegas - John Edward Tickets Las Vegas - Shark Reef Tickets Las Vegas - Erich Bergen Tickets Las Vegas
Las Vegas 51s Tickets