Fenway Park
Boston, Massachusetts
Tenant: Boston Red Sox (AL)
Opened: April 20, 1912
First night game: June 13, 1947
Surface: Bluegrass
Architect: Osborn Engineering (1912 & 1934)
Construction: James McLaughlin (1912); Coleman Brothers Corp. (1934)
Owner: Boston Red Sox
Cost: $650,000 (1912)
Boston Red Sox tickets:
Capacity: 35,000 (1912); 35,500 (1947); 35,200 (1949); 34,824 (1953); 34,819 (1958); 33,368 (1960); 33,357 (1961); 33,524 (1965); 33,375 (1968); 33,379 (1971); 33,437 (1976); 33,513 (1977); 33,538 (1979); 33,536 (1981); 33,465 (1983); 33,583 (1985); 34,182 (1989); 34,171 (1991); 33,925 (1992); 34,218 (1993); 33,577 for day games and 33,993 for night games (2001); 36,298 (2004); 37,654 (2006); 38,805 (2007); 39,605 (2008).
Fenway Park attendance figures
Location: Left field (N), Lansdowne Street, Boston & Albany Railroad tracks and Massachusetts Turnpike (I-90); third base (W), Brookline Avenue and Jersey Street (renamed Yawkey Way after BoSox owner in 1976), also bowling alley building attached to park; first base (S), Van Ness Street (built after park was done); right field (E), Ipswich Street and Fenway Garage building.
Dimensions: Left field: 324 (1921), 320.5 (1926), 320 (1930), 318 (1931), 320 (1933), 312 (1934), 315 (1936) [figure revised to 310 in 1995]; left-center: 379 (1934); deep left-center at flagpole: 388 (1934); flagpole removed from field of play (1970); center field: 488 (1922), 468 (1930), 388.67 (1934), 389.67 (1954), 390 (current); deepest corner, just right of center: 550 (1922), 593 (1931), 420 (1934) [Note: 593 is cited in 1931-1933 Bluebooks; this could be a misprint.] right-center, just right of deepest corner where the bullpen begins: 380 (1938), 383 (1955); right of right-center: 405 (1939), 382 (1940), 381 (1942), 380 (1943); right field: 313.5 (1921), 358.5 (1926), 358 (1930), 325 (1931), 358 (1933), 334 (1934), 332 (1936), 322 (1938), 332 (1939), 304 (1940), 302 (1942); backstop: 68 (1912), 60 (1934); foul territory: smallest in the majors.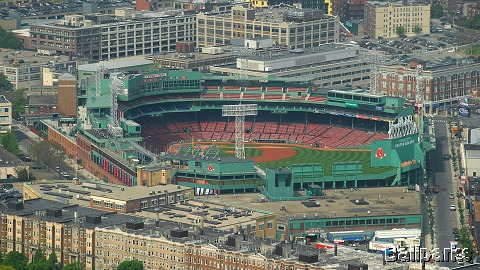 Fences: Left field: 25 (wood, 1912), 37.17 (tin over wood over concrete lower section, 1934), 37.17 (hard plastic, 1976); left-field wall to center bleacher wall behind flagpole: 18 sloping to 17 (concrete, 1934), crash pad added from 18 inches to 6 feet on left and center field walls (1976); center field to bullpen fence: 8.75 (wood, 1940); right-center bullpen fence: 5.25 (wood, 1940); right-field wall and railing: bullpen 3.42 sloping to 5.37 at foul pole (steel, 1940); right-field belly: the low railing and wall curve out sharply from the 302 marker at the right-field foul pole into deep right field.

The first two games at Fenway Park were rained out, so the new ballpark opened on April 20, 1912. That was the same day as the opening of Detroit's Navin Field, later known as Tiger Stadium, and just five days after the sinking of the Titanic. The 35,000 seat ballpark was built in the Fenway section of Boston, an area known for its many fens, or marshes. The Red Sox fit 47,627 people into Fenway for a September 22, 1935 doubleheader against the New York Yankees. Fire laws in the 1940's ended that type of overcrowding and the biggest postwar crowd was 36,388 for a game against the Cleveland Indians in 1978.

Fenway's clubhouses are small and modest. The tunnels which lead to the dugouts are usually wet, and the floorboards creak. Like most of baseball's other old parks, it's cramped and even a little bit uncomfortable. Those other old parks have disappeared, but Fenway is still there. Red Sox fans continue to crowd into Fenway's cozy confines, pushing the Red Sox average attendance to over 2.5 million into the 21st century. They've come to Fenway in great numbers ever since the park opened, back in the years when the Red Sox regularly appeared in the World Series. The Red Sox won the World Series at Fenway in the park's first year and won it three more times by 1918, but it took them another eight-six years before they won it again. Some have thought the Red Sox were cursed when they sold Babe Ruth to the Yankess after the 1919 season. For them, the curse was lifted in 2004.

They won one of the most memorable game in World Series history, on October 21, 1975, when Carlton Fisk ended Game 6 against the Cincinnati Reds with a 12th-inning home run over the 37 foot tall Green Monster just inside the left field foul pole. It would have been a dramatic shot in any park, but hitting it over the Green Monster made it that much better. A 23-foot screen caught balls which cleared the wall until the Red Sox built seats atop it in 2003. The ladder once used to retrieve balls from the screen still remains.

The Green Monster features a manually operated scoreboard that displays division standings, the line score for the game and scores from other MLB games. In Morse code down the side of the scoreboard are the initials of Thomas A. Yawkey and Jean R. Yawkey, who owned the Red Sox from 1933-93. The sign says the Green Monster is 310 feet from home plate. It's 304.779 feet, high according to one measurement or 308, according to another. It has been green only since 1947. Before that, Fenway's left-field wall was covered with advertisements. The original 25-foot wall was made of wood, which burned along with the rest of the park in a January 5, 1934, fire. The second, 37-foot wall was tin over wooden railroad ties. The current hard plastic wall, also 37 feet high, was erected in 1976.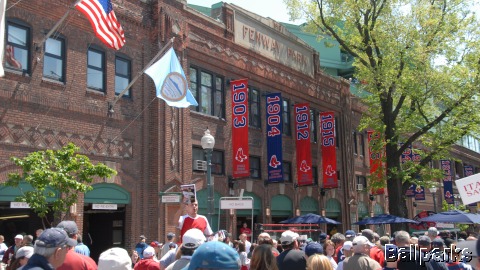 The bullpens were moved from fair territory to right field in 1940, which made the right-field fence closer and, consequently, helped Red Sox star Ted Williams hit more home runs. The Red Sox became the third-to-last major league team to play home night games when lights went up at Fenway on June 13, 1947. A message board was installed above the center-field bleachers in 1976, and private suites were added to the roof in 1983. A glassed-in seating section called the 600 Club (renamed the .406 Club in 2002) was built behind home plate in 1988. The glass was removed and the section was renamed the EMC Club in 2006. Even with all those changes, Fenway still looks very much as it did decades ago.
For many years, the roof over the grandstand in right featured retired Red Sox uniform numbers in the order they were retired: 9, 4, 1, and 8, eerily reminding us of Sept. 4, 1918, the day before the start of the last World Series the Red Sox would win for close to a century. However, the numbers have since been rearranged in numerical order, and now include Carlton Fisk's number 27, Johnny Pesky's number 6 and Jim Rice's number 14.
Although the distance has never been posted on the wall, the right-field stands are only 302 feet from home plate at the foul pole. That foul pole was once nicknamed "Pesky's Pole." Red Sox pitcher Mel Parnell coined the term, after Pesky hit a home run just beyond the famous pole. That home run was one of only six homers Pesky ever hit at Fenway Park, and it won the game for Parnell. Although the roof over the grandstand in right seems to invite home runs, no one has ever hit one over it.
The Red Sox haven't always been the only tenants at Fenway. The AFL's Boston Patriots played there from 1963-68 and the Boston Redskins (later the Washington Redskins) played there before that. The Boston Yanks and the Boston College and Boston University football teams played there, too. Fenway once hosted a World Series that did not include the Red Sox. The Boston Braves won the 1914 Series at Fenway because Braves Field was still under construction.
Fenway Facts:
Red Sox dugout is on the 1st base side. The bullpens are located behind the right field fence.
Elevation: 20 feet above sea level.
Site of the 1999, 1961 (II) and 1946 All-Star games.
Seats made of oak.
1976 electronic scoreboard significantly altered the wind currents.
43 private 28-seat rooftop boxes added in 1984.
Bleacher sections 34 & 35 are covered with tarps for day games because they are in the batter's eye. However, those seats are available for night games.
Duffy's Cliff was a 10-foot-high mound which formed an incline in front of the left field wall from 1912 to 1933, extending from the left-field foul pole to the flag pole in center; named after the Red Sox's Duffy Lewis, the acknowledged master of defensive play on the cliff. It was greatly reduced but not completely eliminated in 1934.
The Green Monster has a ladder running from the top of the scoreboard, 13 feet above ground, to the top of the wall; This once allowed the groundskeeper to remove batting-practice home run balls from the netting above the wall, but became obsolete when the netting was replaced by seats in 2003.
Behind the manual scoreboard in left field is a room where the walls are covered with signatures of players that have played left field through the years.
Scoreboard numbers - runs and hits: 16 inches by 16 inches, 3 pounds; errors, innings, pitcher's numbers: 12 inches by 16 inches, 2 pounds.
No ball has ever been hit over the right-field roof.
Home run balls that hit uprights above the left-field wall were declared in play by the umpires.
Wooden bleachers stood in foul territory down the left field line in the 1910s and 1920s but burned down on May 8, 1926. The charred remains were removed, increasing the size of foul territory there. Wooden bleachers were completed in center and right-center for the 1912 World Series.
Infield grass was transplanted from Huntington Avenue Baseball Grounds to Fenway in 1912.
During the winter of 1933-1934, all of the wooden grandstands were replaced with concrete and steel. A big fire on January 5, 1934, destroyed much of what had already been built, but all was finished for the season opener on April 17, 1934.
In 1936 a 23-foot, 7-inch net was placed atop the wall in left to protect windows on Landsdowne Street.
Wind usually helps the batters. A new pressbox built in the late 1980s above home plate causes wind swirl that pushes foul balls back into fair territory.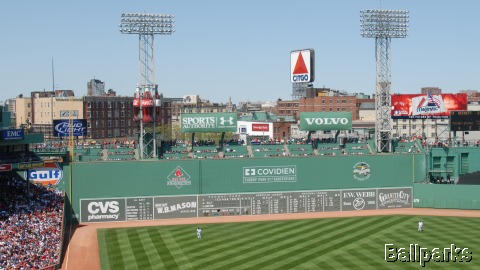 When tin covered the 2-by-4s on the left-field wall, balls hitting the tin over the 2-by-4s had a live bounce, but balls hitting between the 2-by-4s were dead and just dropped straight down.
In 1940, in an effort to help Ted Williams hit home runs, the Red Sox added the right-field bullpens, known as Williamsburg, which reduced the distance to the fence by 23 feet.
A seat in the right field bleachers is painted red to mark the spot where longest measurable home run ever hit by a Red Sox player inside Fenway Park landed. Ted Williams hit the home run on June 9, 1946 off Fred Hutchinson of the Detroit Tigers. It was measured at 502 feet and supposedly crashed through the straw hat of the man sitting in the seat (Section 42, Row 37, Seat 21).
The 1946 roof boxes were replaced in 1982.
The screen behind home plate, designed to protect fans and allow foul balls to roll back down onto the field of play, was the first of its kind in the majors.
Left-field scoreboard, installed on the wall in 1934, moved 20 feet to the right in 1976.
The low concrete base of the left- and center-field walls was padded after the 1975 World Series, during which Fred Lynn crashed into the concrete wall in center.
The left-field foul line was measured by Art Keefe and George Sullivan, authors of The Picture History of the Boston Red Sox, in October 1975 as 309 feet, 5 inches. On October 19, 1975, the Boston Globe used aerial photography and measured it at 304.779 feet. Osborn Engineering Co. blueprints document the distance at 308 feet. In 1995, the Red Sox, with no fanfare, revised the distance to left field to 310 feet.
Retired Red Sox uniform numbers hung in right field in numerical order: Bobby Doerr (1) in 1988, Joe Cronin (4) in 1984, Johnny Pesky (6) in 2008, Carl Yastrzemski (8) in 1989, Ted Williams (9) in 1984, Jim Rice (14) in 2009 and Carlton Fisk (27) in 2000.
On June 13, 2005, in a ceremony before the Red Sox played the Cincinnati Reds at Fenway Park for the first time since the 1975 World Series, the left field foul pole was named "Fisk Pole." The ceremony honored Carlton Fisk, who hit the famous home run just inside the pole to win the 6th game of the series.
Eight Red Sox pitchers have thrown no-hitters here: George Foster (06/21/1916), Dutch Leonard (08/30/1916), Ernie Shore (06/23/1917), Mel Parnell (07/14/1956), Earl Wilson (06/26/1962), Dave Morehead (09/16/1965), Derek Lowe (04/27/2002) and Clay Buchholz (09/01/2007).
Four opposing pitchers have thrown no-hitters here: George Mogridge (04/24/1917), Walter Johnson (07/01/1920), Ted Lyons (08/21/1926) and Jim Bunning (07/20/1958).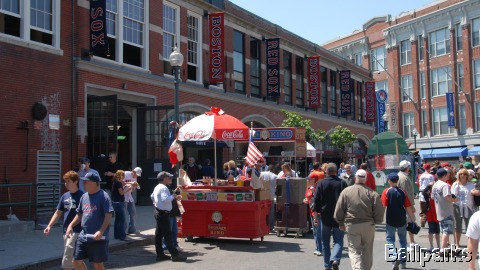 The Red Sox proposed a replacement for Fenway Park in 1999. Several sites were proposed by the team for a new ballpark, but many individuals, as well as the city of Boston, expressed an interest in refurbishing Fenway Park. An organization called "Save Fenway Park!" was organized in 1998 to promote ways to preserve the old ballpark.
On January 17, 2002, a day after a new Red Sox ownership group was approved, prospective club president Larry Lucchino announced plans to hire architect and urban planner Janet Marie Smith to oversee stadium issues in Boston. Smith played a major role in the design of Oriole Park at Camden Yards in Baltimore and Turner Field in Atlanta. This action began to fulfill the promise that the new owners made to preserve Fenway Park instead of building a new ballpark. The team has been gradually adding seats where they can, primarily on the roof down the base lines and, most notably, 274 seats above the "Green Monster" in left field.
The team announced in September of 2004 that it would add as many as 2,000 seats to Fenway Park after the 2005 season. Although the team did not give any specifics, this would be a relatively major expansion. The team's principal owner, John Henry, said that a ballpark expansion would bring park capacity to no more than 40,000 fans.
For the 2005 season, the Red Sox made some significant changes to Fenway Park. Gate E has been transformed into a grand entrance, with a new restaurant in the adjacent Jeano building. Landsdowne Street has been refurbished with cherry trees and historic street lamps. A new roomier concourse was added behind section 16 on the 1st base side.
The old field was completely dug up and replaced with a new $2 million field, complete with state-of-the-art drainage and heating systems. These systems will mean fewer rainouts, and allow the grounds crew to prep the grass earlier in the spring and keep it later into the fall. Also, the old crown in the field, which was necessary for drainage, has been flattened, so the players sitting in the dugouts can see the feet of the outfielders. The Red Sox also expanded the team's clubhouse, adding a new weight room, batting cage, interview area, and physical training and therapy area.
More on Fenway Park:
Recommended Reading (bibliography):
Boston's Ballparks & Arenas by Alan E. Foulds.
Picture Perfect: Mowing Techniques for Lawns, Landscapes, and Sports by David R. Mellor.
One Day at Fenway by Steve Kettmann.
Fenway: A Biography in Words and Pictures by Dan Shaughnessy, Stan Grossfeld and Ted Williams.
Our House: A Tribute to Fenway Park by Curt Smith.
Fenway In Your Pocket: The Red Sox Fan's Guide to Fenway Park by Kevin T. Dame and Rioji Yoshida.
Fenway Saved by Bill Nowlin and Mike Ross.
Fenway Park: Legendary Home of the Boston Red Sox by John Boswell and David Fisher.
Fenway: The Players and the Fans Remember by Peter Golenbock.
Fenway Park: Build-It-Yourself by Len Martin.
Fodor's Baseball Vacations, 3rd Edition: Great Family Trips to Minor League and Classic Major League Ballparks Across America by Bruce Adams and Margaret Engel.
The Ultimate Baseball Road-Trip: A Fan's Guide to Major League Stadiums by Joshua Pahigian and Kevin O'Connell.
Joe Mock's Ballpark Guide by Joe Mock.
Take Me Out to the Ballpark: An Illustrated Tour of Baseball Parks Past and Present by Josh Leventhal and Jessica Macmurray.
The Ballpark Book: A Journey Through the Fields of Baseball Magic (Revised Edition) by Ron Smith and Kevin Belford.
Ballparks: A Panoramic History by Marc Sandalow and Jim Sutton.
Field of Schemes: How the Great Stadium Swindle Turns Public Money into Private Profit (2nd Edition) by Joanna Cagan and Neil deMause.
Public Dollars, Private Stadiums: The Battle over Building Sports Stadiums by Kevin J. Delaney and Rick Eckstein.
Sports, Jobs, and Taxes: The Economic Impact of Sports Teams and Stadiums by Roger G. Noll and Andrew Zimbalist.
City Baseball Magic: Plain Talk and Uncommon Sense about Cities and Baseball Parks by Philip Bess.
Diamonds: The Evolution of the Ballpark by Michael Gershman.
Green Cathedrals: The Ultimate Celebration of All 273 Major League and Negro League Ballparks by Philip J. Lowry.
Lost Ballparks: A Celebration of Baseball's Legendary Fields by Lawrence S. Ritter.
Roadside Baseball: A Guide to Baseball Shrines Across America by Chris Epting.
The Story of America's Classic Ballparks (VHS).
Boston Red Sox
Fenway Park
4 Yawkey Way
Boston, MA 02215
Help us provide a better web site by completing our feedback form
PHOTOGRAPHS:
All photos © 2007 by Russ Andorka.
Updated July 2009
Tickets to Red Sox spring training, Boston Red Sox, Red Sox Blue Jays, Red Sox Yankees, NCAA Basketball Tournament, College Football Bowl, NCAA Football, New England Patriots and Paul McCartney provided by Ticket Triangle.
Thanks to Bryan Davis and David Nevard for their contributions.
BALLPARKS © 1996-2022 by Munsey & Suppes.