Target Field
Minneapolis, Minnesota
Tenant: Minnesota Twins (AL)
Opening: April 2010
Groundbreaking: August 30, 2007
Style: Open air
Surface: Grass
Capacity: 40,000 (baseball only)
Architect: HOK Sport (Kansas City) and Hammel, Green and Abrahamson Inc. (Minneapolis)
Construction: M.A. Mortenson Co. (Minneapolis)
Owner: Minnesota Ballpark Authority
Cost: $544.4 million (including site acquisition and infrastructure)
Public financing: $392 million from a 0.15 percent sales tax in Hennepin County
Private financing: $152.4 million from the Twins
Lease: 30 years
Minnesota Twins tickets:
Location: In the Warehouse District, just north of Target Center in downtown Minneapolis. Left field (NE), 5th Street; 3rd base (NW), BN and Santa Fe Rail Road tracks & HERC Plant (Hennepin County Garbage Burner); 1st base (SW), 7th Street; right field (SE), 3rd Avenue & I-394.
Dimensions: Left field: 328 feet; left-center: 371 feet; center field: 402 feet; right-center: 371 feet; right field: 331 feet.
Fences: Undetermined.
Early on Sunday morning, May 21, 2006, state lawmakers gave final approval to a financing plan for an open-air stadium for the Minnesota Twins. The ballpark was projected to cost $522 million and be ready in time for the 2010 season. On February 12, 2008, the Twins announced they would fund an additional $22.4 million to offset rising infrastructure expenses, bringing the total cost of the project to $544.4 million.
Under the terms of a plan unveiled at a Metrodome press conference April 25, 2005, the Twins and Hennepin County would have built a $360 million, 40,000-seat open-air stadium. The site was near the confluence of I-394, the end of the Hiawatha Light Rail line and the proposed Northstar commuter rail in downtown Minneapolis. The total cost of the ballpark project was projected to be $478 million, including bonding costs, site preparation and surrounding infrastructure, such as road and pedestrian improvements.
The proposed ballpark wouldn't include a roof, but the Twins still favored one. The team encouraged the state to help cover that cost, projected to be at least $100 million. Minnesota Twins owner Carl Pohlad had promised to contribute $125 million to the project.
*
In January 2004, the Minnesota Twins unveiled plans for a proposed retractable roof ballpark which would help ensure the long-term viability and competitiveness of the franchise while providing fans throughout the Upper Midwest with the nation's premier baseball venue. This project was estimated to cost $535 million.
While the plan which was actually passed in 2006 does not include a roof, most of the design elements from the 2004 plan survived.
The conceptual Twins ballpark design was a product of HOK Sport + Venue + Event, the same group that designed Saint Paul's Xcel Energy Center, Baltimore's Camden Yards and San Francisco's SBC Park. While a site had yet to be determined, the ballpark had been designed to fit on a generic four-square city block. Once a site was selected, variations in the design were necessary in order to accommodate the site, surrounding structures and infrastructure needs.
The new ballpark honors Minnesota's rich baseball heritage and reflects the state's dynamic blend of urban sophistication and rugged outdoor vitality. Featuring the most intimate seating configuration in the game, Minnesota's new ballpark has marked the return of outdoor baseball for a new generation of Twins fans. The ballpark's retractable roof, had it been built, would have offered the best possible fan experience and give fans across the Upper Midwest comfort in planning a baseball outing regardless of the weather.
"The design reflects Minnesota's abundant natural beauty and its citizens' vibrancy," said HOK S+V+E senior principal Earl Santee. "This ballpark will preserve and honor the state's wonderful baseball tradition and add an exciting new dimension to the quality of life. It will be an inviting landmark for all of Minnesota and an intimate home for America's pastime."
Featuring just 40,000 seats on four levels (Lower Deck, Suite Level, Club Level and Upper Deck), Minnesota's new ballpark is among the most intimate facilities in all of Major League Baseball (MLB). Highlights of the seating configuration include only 12,000 seats in the Upper Deck, which represents the fewest number of upper-level seats in all of MLB. The new ballpark also features more than 17,000 seats between first and third base; 60 private suites; 12 group party suites; 4,000 Club seats and disabled seating for more than 800.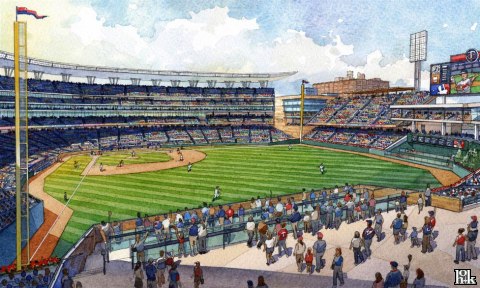 In addition to showcasing great baseball, Minnesota's new ballpark was designed to be a family-oriented entertainment destination. Inside the ballpark, fans enjoy the comfort of expansive, heated concourses providing open views of the playing field on all seating levels. The new ballpark also features a Minnesota Baseball Hall of Fame and Museum, a retail store, a baseball-themed Sports Bar and Restaurant, an interactive area for kids and additional venues for group ticket buyers.
Minnesota's new ballpark would have been the sixth retractable-roof facility to be constructed in MLB. However, while the roof remains in clear view to a majority of fans when open in other parks, the original Twins design called for a three-panel roof to move completely off the ballpark in less than 15 minutes. When open, fans inside the park would have had the experience of an open-air ballpark. During cold or inclement weather, the roof would have been closed, thereby providing shelter for fans and ensuring a more comfortable fan experience with no rain delays or rainouts.
The natural grass playing field is slightly asymmetrical. The distance from home plate to the left field foul pole measures 328 feet while the distance down the right field line measures 331 feet. The power alleys to left and right measure 371 feet with straightaway center field 402 feet from home plate.
The exterior of the Twins proposed ballpark reflects the natural beauty of Minnesota. Wrapped in native Minnesotan Mankota-Kasota limestone, it echoes the look of the state's natural stone formations. The ballpark's exterior is complimented by Fenway green steel and seating.
More on Target Field:
Recommended Reading (bibliography):
Uncovering the Dome by Amy Klobuchar.
Stadium Games: Fifty Years of Big League Greed and Bush League Boondoggles by Jay Weiner.
Take Me Out to the Ballpark: An Illustrated Tour of Baseball Parks Past and Present by Josh Leventhal and Jessica Macmurray.
The Ballpark Book: A Journey Through the Fields of Baseball Magic (Revised Edition) by Ron Smith and Kevin Belford.
Stadia: A Design and Development Guide by Geraint John and Rod Sheard.
City Baseball Magic: Plain Talk and Uncommon Sense about Cities and Baseball Parks by Philip Bess.
Field of Schemes: How the Great Stadium Swindle Turns Public Money into Private Profit (2nd Edition) by Joanna Cagan and Neil deMause.
Public Dollars, Private Stadiums: The Battle over Building Sports Stadiums by Kevin J. Delaney and Rick Eckstein.
Sports, Jobs, and Taxes: The Economic Impact of Sports Teams and Stadiums by Roger G. Noll and Andrew Zimbalist.
Modern Marvels - Domed Stadiums (VHS).
Help us provide a better web site by completing our feedback form
All images and content on this page courtesy of the Minnesota Twins.
Updated September 2008
Tickets to Minnesota Twins, NCAA Basketball Tournament, College Football Bowl, NCAA Football, Paul McCartney, NCAA Basketball Tournament, College Football Bowl and NCAA Football provided by Ticket Triangle.
BALLPARKS © 1996-2014 by Munsey & Suppes.