Ballparks by Munsey & Suppes
presents: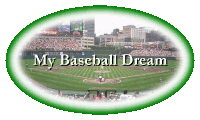 "My Baseball Dream" is a collection of articles written by Ray Bergman as he pursued his dream to tour all 28 Major League ballparks over a two month period. As he visited each park, Ray wrote about his experiences and e-mailed his articles to us so that you could follow Ray's progress and share in his journey right here on the Ballparks World Wide Web site! The latest article is featured on this page. Previous articles have been catalogued and may be accessed by clicking on the appropriate ballpark in the calendar of Ray's schedule below. Ray has now completed his amazing trip.
---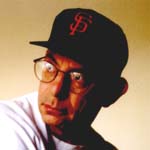 My Baseball Dream
by Ray Bergman
Ray's Ratings
October 21, 1996

The following is the way I feel about the 28 ballparks I visited on my dream trip. I'm sure some of you fellow dreamers will agree and some will not, but one thing is for sure, you will get my honest opinion. Remember, I have visited all 28 parks.

I have rated the parks using the following createra: real grass vs. the phoney green stuff, the location of the park, the ease of using transpotation to get to the park, sight lines for viewing the games, the seats (were they comfortable), food (how did it taste, portions, etc.), how the fans reacted to the games and the players and, finally, the mascots (did they do anything to enhance the game and make it more enjoyable). I used all of the above but not neccassarly in the order you read them.

So, if you agree or not, here are my choices in four different catagories:
The Best of the Old
Wrigley Field in Chicago.
Fenway park in Boston.
Tiger Stadium in Detroit.
The Best of the Domes
SkyDome in Toronto, Ontario, Canada.
Metrodome in Minneapolis.
Le Stade Olympique in Montreal, Quebec, Canada.
Astrodome in Houston.
Kingdome in Seattle.... best fans, worst dome.
The Best of the 1960s-70s Ballparks
Dodger Stadium in Los Angeles... clean and great Dodger Dogs.
Kauffman Stadium in Kansas City... lovely water fountains outside the fences.
Jack Murphy Stadium in San Deigo.
Shea Stadium in New York.
Busch Stadium in St. Louis.
Veterans Stadium in Philadelphia.
3Com park in San Francisco, Oakland-Alameda County Coliseum, Yankee Stadium in New York, Three Rivers Stadium in Pittsburgh, Riverfront Stadium in Cincinnati, County Stadium in Milwaukee, Atlanta-Fulton County Stadium, Anaheim Stadium... I put all of these parks in the same catagory: Not real bad but not real good either..There are at least one or two things wrong, from a fans point of view, with these parks.
The Best of All the Ballparks
Jacobs Field in Cleveland...It has the best restaurants, transportation and the best viewing of all the parks I visited.
Oriole Park at Camden Yards...Tranportation to and from the yard is A#1.
Coors Field in Denver...the sight lines are great at Coors Field.
The Ballpark in Arlington... A little more detail would have improved this site.
Comiskey Park... It's a new park but rather blah for my taste.
What's your favorite ballpark? We want to hear from you!


The Leaders
New: Oriole Park at Camden Yards
Current: Wrigley Field
Past: Ebbets Field
---
Ray's Schedule
Jul 26
3Com
Park,
S.F.

Braves
Giants

27
28
Anaheim
Stadium


Brewers
Angels
29
30
Dodger
Stadium,
L.A.

Marlins
Dodgers

31
J.Murphy
Stadium,
S.D.

Braves
Padres

Aug 1
2
3
Ballpk in
Arlington


ChiSox
Rangers
4
Astro-
dome,
Houston

Giants
Astros

5
6
7
8
J.Robbie
Stadium,
Miami

Mets
Marlins

9
10
11
Atlanta-
Ful Cnty
Stadium

Rockies
Braves

12
Riverfront
Stadium,
Cincinnati

Dodgers
Reds

13
14
Comiskey
Park,
Chicago

Yankees
ChiSox

15
16
Metro-
dome,
Minnpolis

Blue Jays
Twins

17
Wrigley
Field,
Chicago

Astros
Cubs

18
County
Stadium,
Milwkee

ChiSox
Brewers

19
Tiger
Stadium,
Detroit

ChiSox
Tigers

20
Jacobs
Field,
Cleveland

Rangers
Indians

21
Camden
Yards,
Baltimore

Mariners
Orioles

22
Yankee
Stadium,
N.Y.

Angels
Yankees

23
24
Fenway
Park,
Boston

Mariners
Red Sox

25
26
Sky-
Dome,
Toronto

Twins
Blue Jays

27
Olympic
Stadium,
Montreal

Dodgers
Expos

28
29
3 Rivers
Stadium,
Pittsburgh

Braves
Pirates

30
Veterans
Stadium,
Philadel.

Dodgers
Phillies

31
Shea
Stadium,
N.Y.

Giants
Mets

Sep 1
2
3
4
5
6
7
8
Busch
Stadium,
St. Louis

Padres
Cardinals

9
10
Kauffman
Stadium,
K.C.

Mariners
Royals

11
12
Coors
Field,
Denver

Braves
Rockies

13
14
15
16
King-
dome,
Seattle

Rangers
Mariners

17
18
19
20
21
22
23
Oakland-
Ala Cnty
Coliseum

Rangers
A's
Help us provide a better web site by completing our feedback form
© 1996 by Ray Bergman. Reproduction of all or any part of "My Baseball Dream" without the written permission of Ray Bergman is prohibited.
BALLPARKS © 1996-2014 by Munsey & Suppes.